The Adventures In Awareness Internship Program™ (AIA IP) is designed to prepare professionals for work in the field of Equine Guided Education and/or Equine Facilitated Mental Health. Adventures In Awareness is defined as Equine Facilitated Experiential Learning process work.
The AIA Internship Program provides coaches, educators, horse professionals and individuals with a practical curriculum, including theory, principles, practicum inner-activities and equestrian skills for wellness work with horses.
The AIA model is based on the premise that conscious awareness is key to healthy change. Awareness coupled with exploration of consciousness creates an atmosphere for openness and connectedness where the responses from our equine facilitators may move us at a very deep level.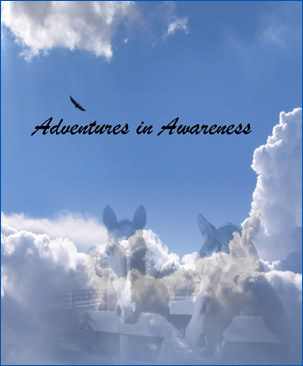 Individuals enrolled in AIA IP core courses explore consciousness and its role in the healing process. Students train experientially (learning through doing) in AIA's EFL process work, as well as a variety of other EFL formats. The breadth of the AIA IP offers excellent preparation to the clinician and educator interested in national competence certification.
Students completing the AIA IP receive a Certificate of Completion. Those students completing with 'merit' earn the approval to use the Adventures In Awareness name and materials. Adventures In Awareness certificate holders have a commitment to adhere to AIA standards of safety and ethical humane practices.
The 14 day core curriculum (Facilitation Skills, Taste of AIA, Relationship Energetics, Equine Perspective and AIA JOURNEY RIDE) is accompanied by reading assignments, journaling, a reflection paper, an individual focus essay, log book of 300 hours work (volunteer or paid) in related field of animal assisted activities, co-facilitation of an AIA short course workshop; your place or ours, portfolio development and mentoring. There are student co-facilitation opportunities to hone your skills and permission is requested of selected papers for publication in an AIA IP student manual.
In addition to the core AIA IP domains of study listed, interns attend 3 elective 'Enrichment' workshops of their choice, in key areas of Horsemanship Skills, and Equine Facilitated Learning. The Horsemanship Skills category is mandatory. The other two enrichment workshops may be selected from any two categories
Course #1. Taste of AIA:
This 3 day course is the basic introduction to the AIA principles, theory and practice. Emphasis is on the AIA Responsibility Agreement. Areas of study are: responsibility agreement, centering, mutual choosing inner-active, heart scanning process, Con Su Permiso, imaginary lead line, elementary equine physiology and psychology as metaphor for life skills and round ring congruent message sending.
Click here
fo r more information.
Course #2. Relationship Energetics:
In this 3 day course we focus on the mechanism of projection and the process of transference and counter-transference, listening and allowing, while exploring the Field with the help of the horse and round ring tending gestalts. The emphasis here is generalizing the AIA principles to facets of everyday life through the lens of world behind our eyes.
Click here for mor e information.
Course #3. The Equine Perspective:
In this 3 day course we focus on building our skill base reading the horse exploring language of Equus, basic AIA inner-active exercises and elementary (balance seat) mounted work leading to AIA's Developmental Feelings Process. The principles inherent in a schooling barn's training regime are explored and worked as metaphor for developing life skills.
Click here for mo re information.
Course #4. AIA Facilitation Skills Seminar(s)™
This is a 4-½ day course. The AIA facilitation skills seminar offers Depth practice with Equine Facilitated Learning. We continue to explore how these principles and practices generalize to everyday life. Focus on round ring tending gestalts and AIA Trust Walk's principles of integration – the AIA Essential Elements are basis of curriculum.
AIA Responsibility Agreement and a thinking process for safety of human, equine, and environment.
Dialog and discussion of standards, ethics, and best practices.
Program design discussions, guest faculty lectures, networking and community building experience.
Depth examination of Intention, Attention, and Awareness.
Depth practice with congruent message sending and Round Ring Tending Gestalts
AIA Developmental Feelings process
Energy Principles – reading The Field
Significance of Archetypes
Click Here for more inf ormation.
Course #5 AIA Journey Ride™
AIA Journey Ride is a 3-day workshop that is optional. Interns may either take 2 Facilitation Skills Seminars or 1 Journey Ride and 1 Facilitation Skills Seminar to earn their AIA IP completion credits. Horses facilitate an inward journey during this workshop. AIA Journey Ride provides an opportunity to intentionally access non-ordinary states of consciousness for the purpose of serving an individual's health and healing. Workshop focus is on the gifts of feelings, the influence of attention and intention, and the significance of energy principles. The workshop goal is expansion of awareness, enhancement of intimacy skills and growth in consciousness. Participants in AIA Journey Ride may expect increased confidence in their intuition, experiential knowledge of multiple realities, and practice reading the Unified Field.
Click here for more info

Additional Enrichment Workshop List
An additional 3 enrichment workshops are required to obtain the AIA IP certificate of completion. There are three categories: Equine Facilitated Learning, and Horsemanship Skills. Interns are required to attend one course from the Horsemanship Skills category.
While the AIA internship student may select alternative studies, AIA recommends the programs offered in the list below. Barbara Rector has experienced the educated teaching staff, both human and equine, of the choices in this suggested list. The horses and their human professionals are well schooled and capable, offering a wide variety of learning experiences. The Horsemanship category is mandatory.
---

Horsemanship:


---

Lynn Palm School of Horsemanship
Ocala, Florida and Bessemaer, Michigan
www.lynnpalm.com
Contact: Lynn Palm
Week long residential group lessons

L Lazy E Ranch
Tucson, Arizona
Contact: Ann Alden @ 520.219.3398
or 520.820.5757 - cell
aca@earthlink.net
Balanced seat riding skills.

EquuSatori Center
Sebastopol California
www.equusatori.com
Contact: Lisa Walters @ 707.824.2834 lisa@equusatori.com
Dressage riding and how it bridges to EFEL.

Interstate Horse Center
Stoughton Wisconsin
healinghorseman@aol.com
Contact: Nikki and Bob Cohen-Wichner 608.873.0572

Rancho Strozzi
Valley Ford, CA
www.leadershipandhorses.com
Contact: Ariana Strozzi 707.876.1908

---

Equine Facilitated Experiential Learning:


---

Epona Center
Sonita, Arizona
www.taoofequus.com
Contact: Linda Kohnav and Kathleen Ingram, MA 520.730.8599
Individual sessions, 3-day workshops and Apprentice program. Apprentice program counts for 2 enrichment credits.

EquuSatori Center
Sebastopol, California
www.equusatori.com
Contact: Lisa Walters 707.322.4955
Individual sessions and practical training in one on one FEEL work.

Horsensei
Woodside, California
www.horsensei.com
Contact: Beverly Kane, MD 650.868.3379
An interactive, interspecies psychospiritual growth process that draws upon the strength, sensitivity, and magic of the horse.

Rancho Strozzi
Valley Ford, California
www.leadershipandhorses.com
Contact: Ariana Strozzi 707.876.1908
Leadership and horses, corporate and communication programs. Apprentice program counts 2 enrichment credits.

---

Equine Facilitated Learning:


---

Minnesota Linking Animals Nature and Critters
Mpls. Minnesota
www.mnlinc.org
Contact: Molly DePrekle, Tanya Welsh and Maureen MacNamara
Full range of animal assistance. 763.972.8046 / 763.972.5919
***training in the MNLYNC protocols of practice and participation in MNLYNC professional development course counts for 2 menu choices.

Falconwood Farm
Covington, Georgia
Contact: Maureen Vidrine and Priscilla Faulkner 770.784.9777 770.786.7283
Full range vaulting, groundwork and riding. University credits for internships

Derby Pond Farm Newport Adolescent and Adult Program
Vermont
Contact: Susan M. Taylor 802.334.5085 staylor@naapinc.org
Record keeping, clinical parameters, animal selection and care, development of treatment team, and supervision.